What is TypeTopia VIP?
TypeTopia for Visually Impaired People (VIP) is a special version of TypeTopia accessible for visually impaired and braille/blind students. It is guaranteed to give them the same results as the regular course. The target group is children aged 8-12 years, for which the practice texts have been tailored. It is an online touch typing course with full auditory support. Please note that this version is only available in Dutch in the Netherlands for the time being. In the future, we want to make it accessible to our English speaking participants as well.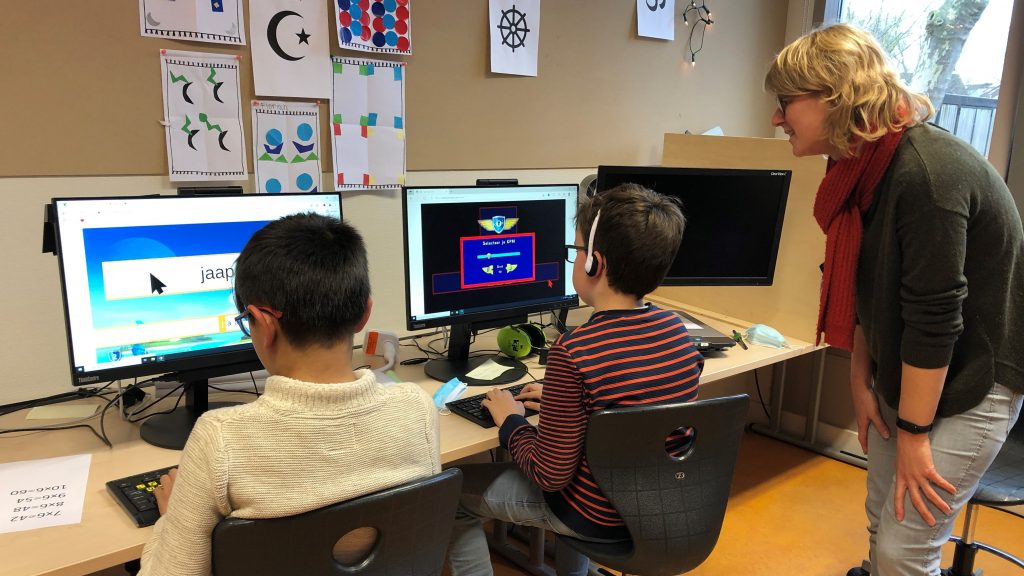 Problem definition
Especially for the target group VIP, mastering the normal QWERTY keyboard is an indispensable skill. It enables them to communicate directly with anyone via the Internet.

In 2008 Henk Snetselaar from Bartiméus Zeist (The Netherlands) contacted Romer van Bavel. At that time, we just had the webbased version of TypeTopia running for one year.
"We are looking for a content partner for a touch typing course for partially sighted/blind children within a subsidy project of Kennisnet (a Dutch public organisation for education and ICT). Could you program this for us?", was the question from Henk.
Kennisnet demanded that everything that was to be programmed had to be webbased. At that moment we were the only webbased touch typing course in the Netherlands so it was an easy decision for them.
How do you start a project like that?
I started observing during several lessons taught to visually impaired and blind children.
For the visually impaired, use was made of existing software in combination with a programme that greatly enlarged the text on the screen. The disadvantage was that after typing two words, the students had to drag the next two words back onto the screen. There was no audio support, and course members also had to "search" for navigation through the package.
Blind students even had one-on-one lessons with the teacher reading out the letters the student had to type. And then to think that this pupil took a 30 minute taxi ride one-way for one hour touch typing lessons and could not practice at home.
There must be another way!
All students must be able to practise independently. The words must be shown one by one in a BIG picture using a special exercise form. The auditory support must be sufficient so that they can practise at school and at home without having to rely on extra software or a supervisor, that was the aim.
And it worked!
This special version of TypeTopia is accessible to visually impaired and blind children, who are guaranteed to achieve the same results as with the regular course. The target group is children aged 8-12 years, to which the practice texts are tailored.
The entire course is aurally supported
The typing exercises themselves are read out at letter, word and sentence level
The instrucitons of how to hit a key and such information
The navigation menu
It also provides an auditory safety net so that a VIP student always knows what to type. You can use the arrow keys to repeat the letter, word or sentence and you can also get help on where the letter to type is located on the keyboard.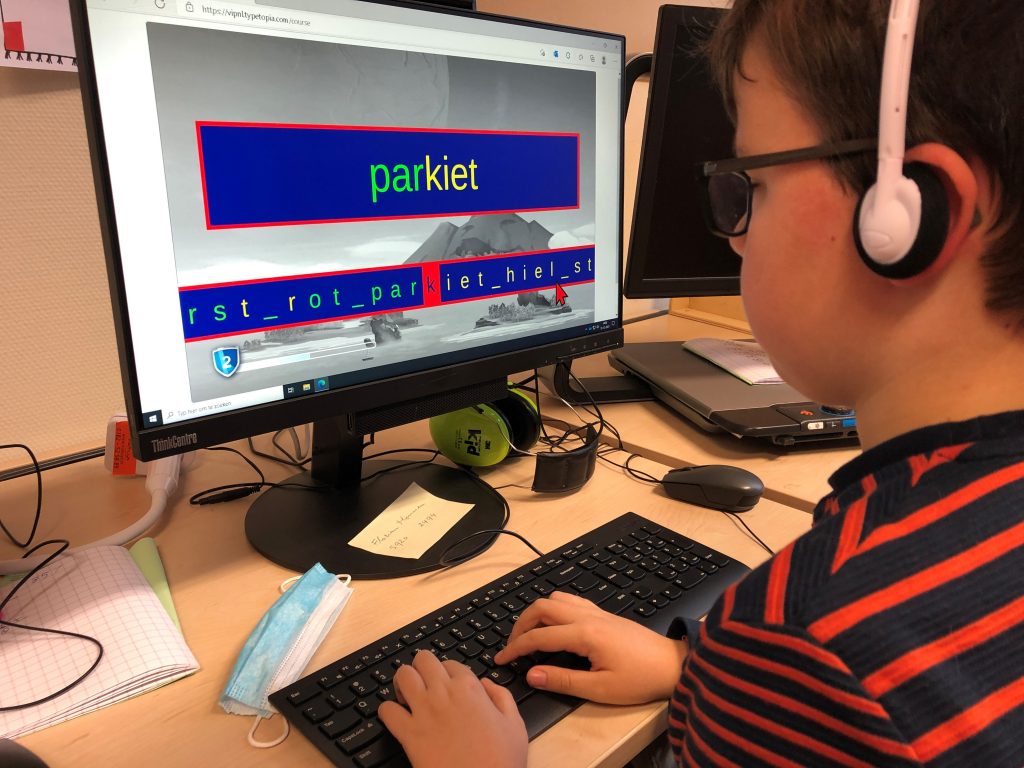 Another challenge
Then there is another challenge. How the word "toe" or "tow" is typed depends on the context. So as a separate word you cannot include them in the exercises. In the learning phase of the keyboard, these words cannot be included in the exercises.
The tea-towel test
It is true, Romer tested the application with a tea towel as a blindfold. You always have to know your way around, no matter where you are in the course. We were really proud that we finally achieved this.
Throughout the years thousands of children have successfully used our software.
Order the TypeTopia VIP version
Pupils and supervisors at the Bartiméus and Visio schools have a licence for the programme. If your child is more or less visually impaired but does not belong to one of these schools, you can also purchase the VIP version of Typetopia directly from us.
Reviews
What Bartiméus has to say
TypeTopia scores a 4.4 out of 5 stars on Trustpilot Lees een van onze 1.699 reviews
Enthusiastic
The reactions of children and their supervisors at Bartiméus and Visio schools have been downright enthusiastic. Positive experiences have also been gained in the ambulatory educational support (AOB) of children in regular schools. Children with visual disabilities in special and regular education can learn to type easily with TypeTopia. The programme is accessible to everyone, regardless of developmental age or disability. Points for improvement are processed and tested with pupils by the developers at Bartiméus Education in Zeist. Meanwhile, it turns out that TypeTopia also works fine for adults with visual problems who want to improve their typing skills.
TypeTopia VIP in HTML5
A huge difference compared to the previous edition was the number of exercise types. In Flash it were only three. In the HTML5 edition we have eight different exercise types.
As Flash was being phased out on the Internet we rebuilt our course in HTML5.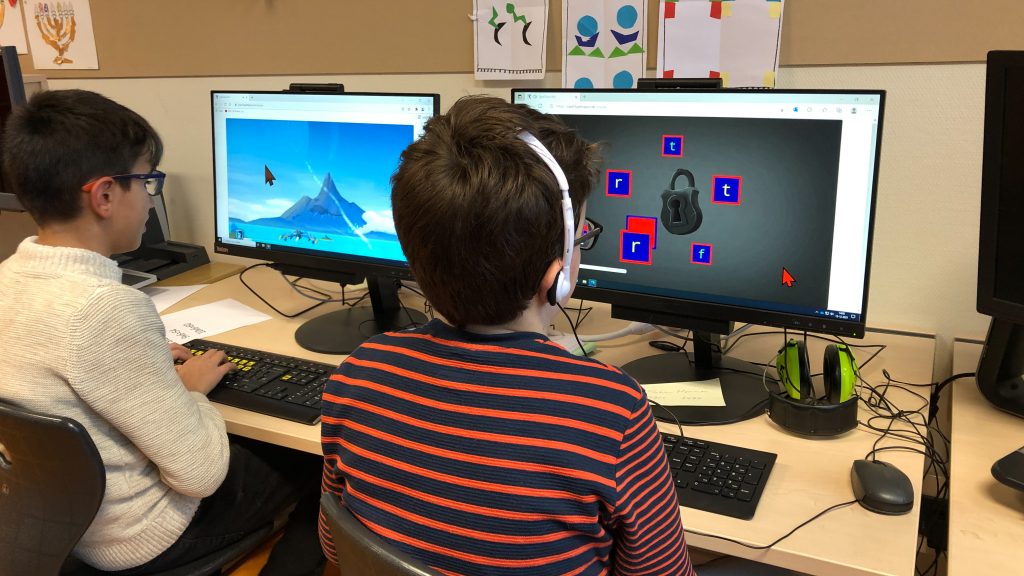 The existing exercise types of TypeTopia have been adjusted as much as possible so that VIP participants can work with them. An big additon to the new edition are the exercises with tempo pressure.
Also for severe forms of dyslexia or autism
If the dyslexia version of TypeTopia appears to be too difficult for a participants with severe dyslexia, the VIP version serves as a good alternative.
Planned developments
We want to make this wonderful application available in English as well, so that we can help VIP children around the world to learn this very important skill properly. Leave your email if you want to be notified.
If you want to be personally informed when the VIP version is available in other languages, please leave your name & email.
We are happy to come into contact with institutes or interest groups for the visually impaired in other countries to look at possibilities for cooperation.