How do you take the final touch typing exam at TypeTopia?
Je doet je Type-examen thuis wanneer het jou uitkomt.
There are three trial exams to get used to it.
Only after that the final exam, easy-peasy.
De uitslag krijg je direct per e-mail met een typediploma in PDF.
And within 14 days you will receive the actual touch typing diploma by post.
Since the beginning of TypeTopia, more than 300.000 kinderen geslaagd. Dus dat gaat jou ook vast lukken.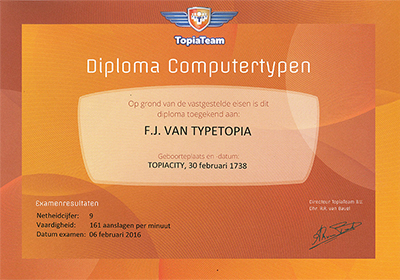 What can you expect from the quality of our touch typing diploma?
TypeTopia aims at 160 strokes per minute.
An accuracy percentage of at least 95%.
After the course touch typing will be an automaticity, just like riding a bike.
No more temptation to type with two fingers: touch typing is way nicer!
TypeTopia learns you to touch type incredibly fast!
When you choose TypeTopia, you choose touch typing! After all, touch typers type much better than 10-finger typers. Touch typers learn to type in such a way that they never forget. That is because you learn to find every key blindly from the start.
Have a go at our trial lessonso you will understand what we mean with touch typing right away.
A guaranteed pass for your touch typing diploma at TypeTopia!
During the course, several checkpoints are built in to check whether you are on the right track. If you have reached exam level, the touch typing exam may be taken earlier.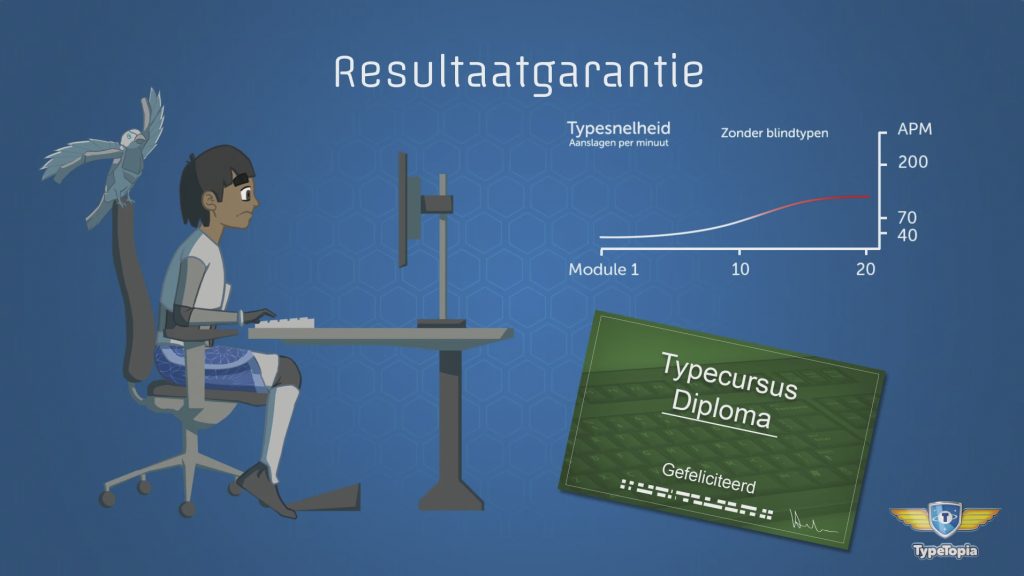 Blijkt er juist meer training noodzakelijk, geen probleem dan faciliteren we dat.  Als je door deze extra meer tijd nodig hebt om de cursus af te ronden, geen probleem. Er worden geen extra kosten in rekening gebracht. We staan immers voor onze missie, "Wij leren jou blindtypen!" Ook als dit langer duurt dan doorsnee. Daarom geven we ook een keiharde resultaatgarantie. Typing diploma not obtained? Money back!
We guarantee that you will learn to touch type, we will make sure you do!