SXM Strong, you may have heard of it. This initiative is intended to put St. Martin back on the map after hurricane Irma. Our board members Carin and Romer were recently on the island, where reconstruction is now in full swing. They too did their bit on behalf of TypeTopia and TopiaTrainer. What exactly did they do? You'll find out in this blog!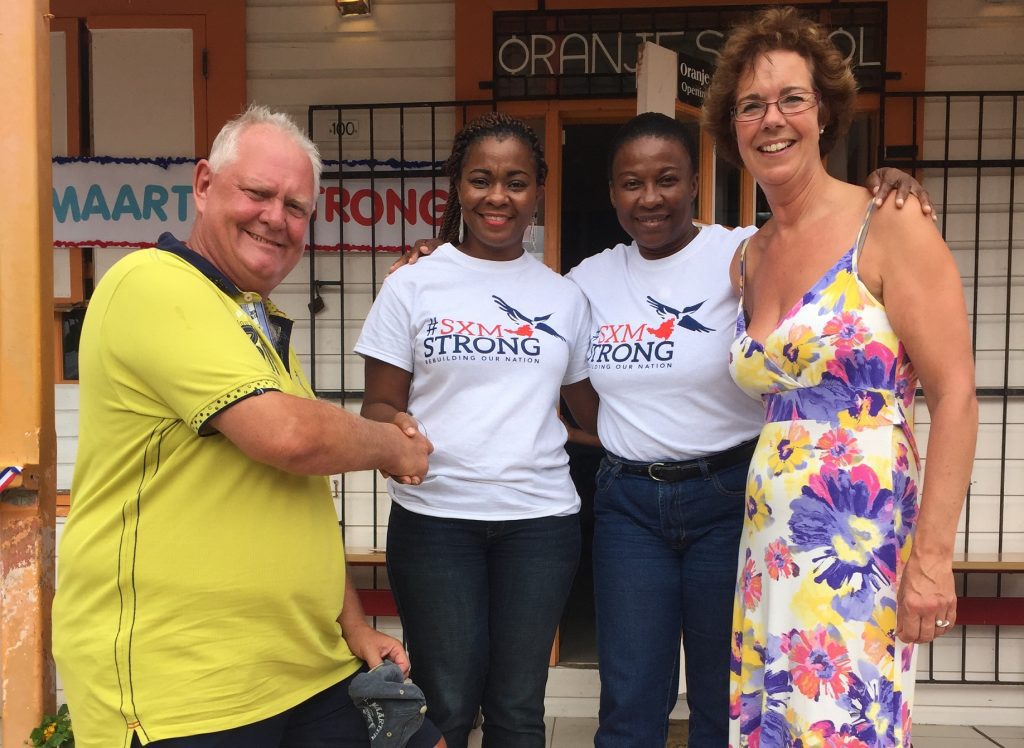 Why Saint Martin?
First, let's go back a bit. What exactly were Carin and Romer doing in Saint Martin? Together with two befriended couples, they brought two yachts from Curaçao to Saint Martin, so that the vessels could spend the winter there. Carin: "It was astonishing to see the state of the island. Entire neighbourhoods have been destroyed, and in many places there is still no electricity or water. We met tenants of catering establishments who do not know what their future looks like. The owner of the building is waiting for the government. So nothing happens, because the tenant is not going to renovate the building at his own expense and risk. Tourism must be revived as soon as possible, as it is the main source of income. There is a tremendous amount of work to be done, but the drive and the will are there. That is very nice to see."

Need for licenses?
When the two knew that they were going to St Martin and that all support would be welcome, they investigated the possibilities of helping out. Romer found out whether there was a need for licences for TypeTopia and TopiaTrainer. "That turned out to be a good idea," he says enthusiastically. "The first school we visited, Sr. Regina Primary School, was immediately interested. We explained to the headmistress why we had come and were immediately taken to the computer room. Fortunately, the equipment proved powerful enough to run TypeTopia and TopiaTrainer. And because Sr. Regina Primary School is part of a school combination of seven Catholic schools, some 700 children are now using TypeTopia and TopiaTrainer."
Warm welcome and an interest
Carin continues: "We also visited schools in Philipsburg. Here too, the welcome was more than welcome. Hundreds of children will use the online software of TopiaTeam. Everywhere, the reception was particularly warm. One school in particular stays in Romer's memory: "That was the Oranje School in Philipsburg. The secretary was super enthusiastic when she did the trial lessons of TypeTopia. It was so much fun to see! Just look at this clip.
Do your bit
Romer and Carin also visited the international school Learning Unlimited Prepatory School. Here, pupils will be using the English-language version of TopiaTrainer. "We estimate that in the first year, we will be able to make around 2,000 children happy with our online platforms. Even though there is no electricity everywhere, they can use it at school both inside and outside the classroom. Not only now, but also in the years to come, we want to continue to support these schools and do our bit for SXM Strong. This way, we help the island to get back on its feet. For us, it was a special (sailing) adventure, and hopefully the licences will be the start of a great adventure for the children!"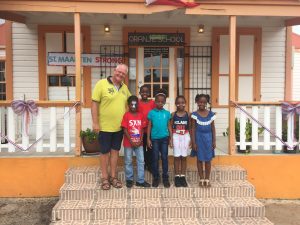 Are you curious about what we have given the children of Saint Martin? Then try the free trial lesson of our online typing course TypeTopia. Through exciting adventures and challenging games, children learn how to type correctly and blindly. With TopiaTrainer, they practice the lessons from the curriculum. They do this with the best games and adaptive assignments, so that they always work at their own level. Create a trial account and try TopiaTrainer for free!