At TypeTopia, we are regularly asked whether our typing course is suitable for dyslexia. We can say a resounding 'yes' to that. In fact, we have been working on this for more than ten years. We work with a special typeface that was developed for dyslexics by Christan Boer - a dyslexic himself. Our features for dyslexics have been extended with a couple of options you can put on or off yourself. We are unique in the Netherlands in this respect. Our CEO Romer van Bavel is happy to tell you more about it.
TypeTopia tailored to dyslexics
"I believe that children with dyslexia can also learn to type well and quickly," he says. "Sometimes they just need a little extra time or minor adjustment. That's not a bad thing at all, but it had to be done technically. This has now been done and I am extremely happy with this extension to our features for dyslexics. It makes our typing course even more suitable for dyslexia. An additional advantage is that children are intensively engaged with letters in a fun way, which makes them experience language in a completely different way."
What has changed exactly?
This can only be seen by those who have purchased the typing course as a dyslexia version. Log in and click on the cogwheel on the right. You will then see a menu, which also includes 'Enhanced accessibility'. It contains four options, which can be turned on or off as you see fit. Look at the screenshot below:
Which dyslexia features are involved?
- Dyslexia font: Allows you to turn the special font on or off. Our advice? Leave it on.
- Dyslexia-friendly exercises wherever possible, the exercises are shown enlarged. Or a child is given more time, so that there is less tempo pressure. It is important to first learn the keys without looking and only then to train on speed.
- Speak words aloud during exercises: wherever possible, the exercises are spoken aloud. That helps with reading.
- Freeze background during exercises: busy backgrounds can distract dyslexics when practising. This is why we freeze the background, so that the child can concentrate on the exercise.

Tip: change the settings together
Although children can adjust the settings in our typing course for dyslexia themselves, we recommend doing this together. As a parent, you will then know exactly how your child is doing. Moreover, you can regularly check whether everything is still going well. It is also possible, for example, to practise with freezing or not freezing the background. In this way, you will discover together what works best for your child.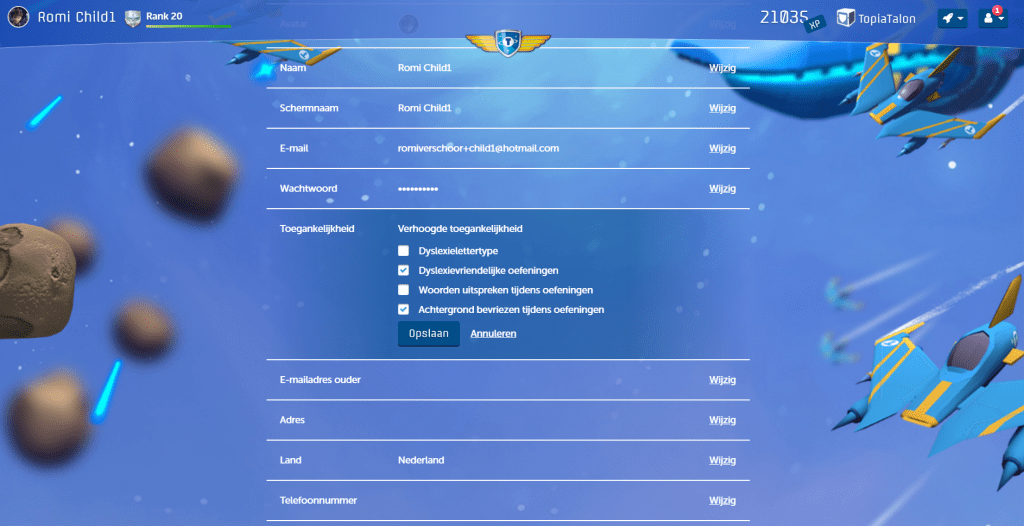 We look forward to hearing your opinion
We are very curious to hear what you and your son or daughter think of our typing course and dyslexia features! Therefore, we would be pleased if you would leave a message on our Facebookpage.
Or play the free trial lesson
And you don't know TypeTopia yet? Then play a trial lesson for free. Read on our dyslexia page how to try the trial lesson with dyslexia features. Are you unsure whether a typing course for dyslexia is something for your child? Read more about the benefits. Dyslexia specialists even recommend TypeTopia! And don't forget: we are the only typing course with dyslexia features, which can also be switched on and off at your own discretion!