So, half of the school year is over! Time for relaxation. A lot of days off together. With a bit of luck, we will have mild winter weather and it will be great to be outside. Or would you rather have skating weather and snow? Whatever it is, here are 10 tips for fun and educational activities during the Christmas holidays (or a rainy weekend). This way, you keep your child(ren) busy and they learn something as well. A win-win situation. Have fun and enjoy the holidays!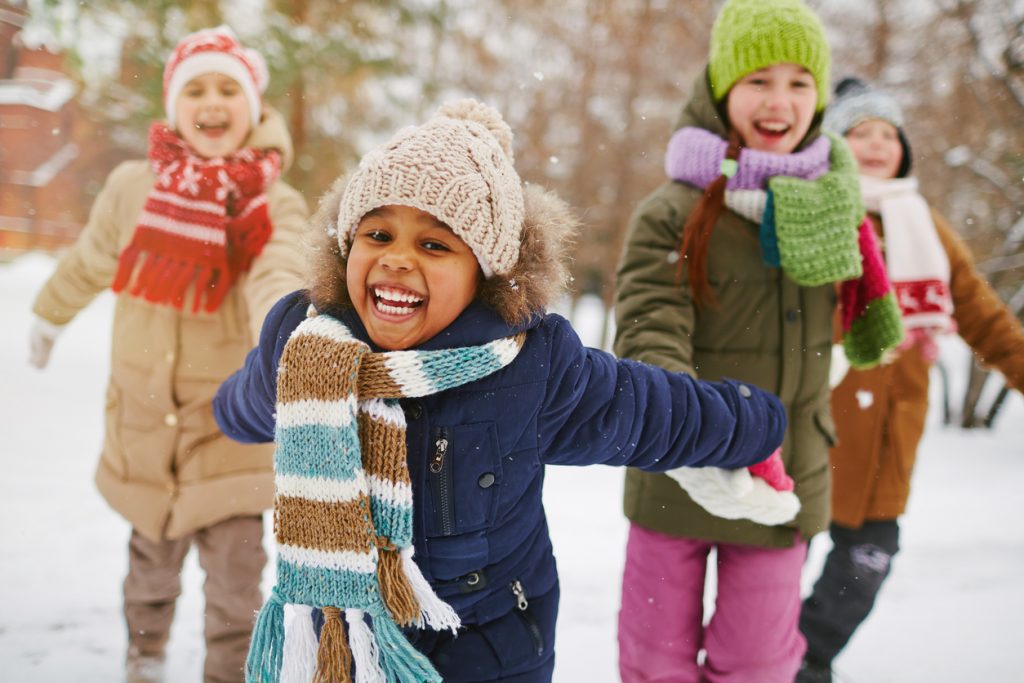 1. Play with a friend
Ask your child with whom he or she would like to play another afternoon. By playing together, children learn to cooperate and share, among other things. You can also be clever: invite a friend to your home, then your child can also be re-invited to play at their friend's home for an afternoon. That way, as a parent, you also have an afternoon to yourself!
2. Learn to touch type
Holidays also mean time to learn something new, such as can type blind. This is a particularly interesting skill for children in grade 5 and above. Those who can type quickly and well will benefit from it for the rest of their lives. With the challenging TypeTopia, children learn to touch type in a playful manner using fun games. You can have your child play the free trial lesson immediately.
3. Watch a film together
To be honest, this option is one of the less educational activities for the Christmas holidays. However, children often really enjoy watching films on the big screen. In the cinema, you can see The Grinch, Polar Express, Mary Poppins Returns, The Gruffalo and Jack Frost, among others. With a nice drink and some popcorn, the party is complete. You can also watch a DVD or a film on Netflix at home. Close the curtains and enjoy!
4. Go to a museum
Where better to learn than in a museum? Our country has a good variety of museums and there is something for everyone: from technology and dinosaurs to nature and art. The great thing is that most museums have special activities for children during the Christmas holidays: from guided tours to arts and crafts afternoons. Chances are you'll learn something new too. Check out the website of your local museum to find out what's on during the Christmas holidays.
5. Bake or cook together
The recipes from The Great British Bake Off are probably a bit too ambitious, but there are plenty of great recipes for children to be found online. You can find all kinds of recipes for kids online. Prepare a delicious three-course dinner together for the rest of the family. Or bake a beautiful cake. Doing the shopping together is also an educational experience for your son or daughter. And the result is (with a bit of luck) very tasty. Handy!
6. To the library!
Libraries usually organise activities during the Christmas holidays. Is this not the case in your neighbourhood? Then the Christmas holidays are a good opportunity to return old books and get new ones. Reading a little before going to bed is a good habit, which helps a child to get to sleep better and faster. Of course, it also contributes to reading skills. In short, enough reasons to head for the library soon.
7. Playfully engaging with school
Is your son or daughter eager to learn and likes school? Then he or she can continue with the lessons during the Christmas holidays. TopiaTrainer is an online platform where children are introduced to grade 5, 6, and 7 subject material by means of challenging games and instructive games. They are constantly encouraged to go up a level and continue learning. You can play a free trial lesson together with your child online. In this way, your child will be well prepared for the SATs.
8. Explore nature
This tip is perfect for dry weather. There is always something to do outside or in the woods. It still seems like autumn outside. Go into the woods and collect the most beautiful leaves or go looking for mushrooms with the forest ranger. The Wildlife Trusts organises a challenge during the Christmas holidays, encouraging you to go on Christmas walks. Or just take a walk through the forest yourself. A nice breath of fresh air!
9. Crafts for autumn or Halloween
It goes without saying that the Christmas holidays coincide with Christmas, but then there is also the New Year. Scour the internet for fun craft ideas. Pinterest is a good tip. Make a garland of snowflakes or poinsettias, for example, that you draw or cut yourselves. Draw houses and cut them out, then stick them around empty glass jars. With a tealight in it, it immediately gives a lot of atmosphere. Or let your imagination run wild with your child(ren). So plan an afternoon for crafts and other creative activities during the Christmas holidays.
10. Clean your room
It's not much fun, but the results are often worth it. Tidying up your child's room together is one of the most forgotten activities for the Christmas holidays. Look at the wardrobe together: what can go? And what might be needed for the winter, such as thick pyjamas or a waterproof jacket? Also sort out the toys: what can you give away and what can go in the bin? Learning to tidy up is an important skill and it is much nicer to play in a clean, tidy room.