He doubled his typing speed, reaching a whopping 146 strokes per minute with a 9 for neatness. Now that is something we often see at TypeTopia, but not for a 7-year-old. What a great achievement for Balian from Enschede, the Netherlands! Thanks to TypeTopia, he learned to type as fast as his parents. Together with his mother Maureen, he did an assignment after school every thime. "It was a real moment for us to spend time together", Maureen says.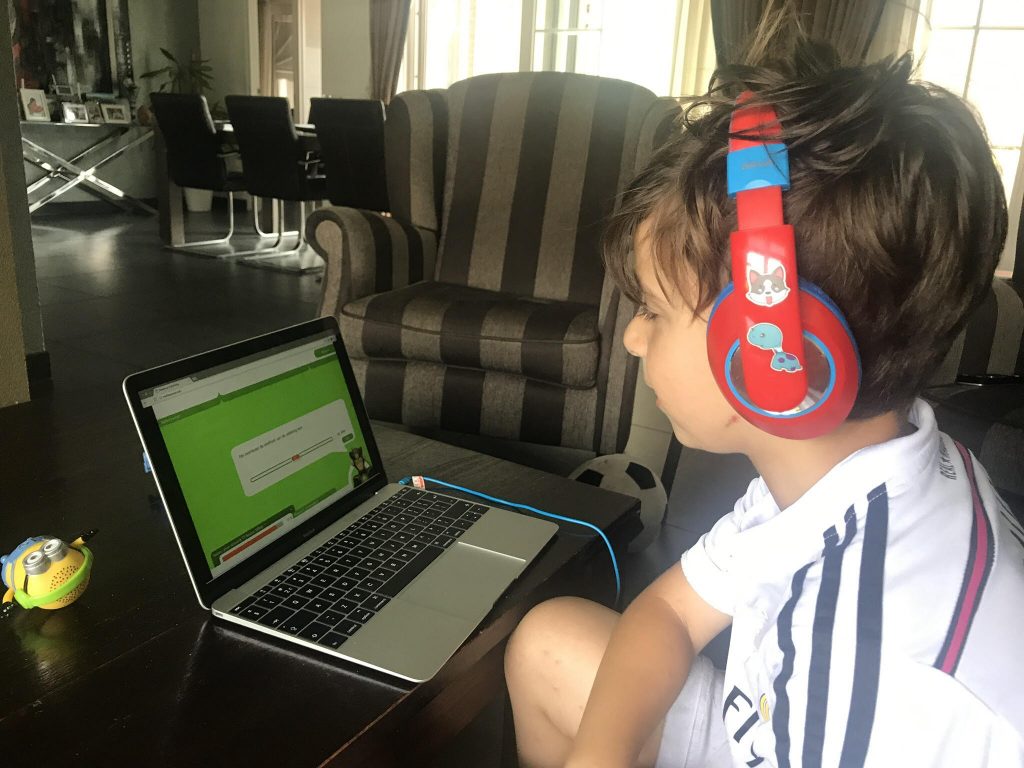 Typing was fascinating
Balian is very eager to learn: he knew the alphabet when he was three, taught himself to read when he was four, and had the highest reading level by grade 3. Time for a new challenge: typing. His parents run an internet company called BookingExperts, a reservation system for holiday parks and hotels. Their fast typing on the keys fascinated their son enormously. "When he wanted a laptop for his birthday, I thought he should do something with it. We looked for a typing course so that he could finally learn to type like us." They ended up with another typing course, but Maureen noticed that the programme actually made her son nervous. "All those noises and parts that had to go faster and faster, it wasn't for Balian."

Meteor storm the most fun
She had been following TypeTopia for a while via Facebook. "The concept and story appealed to me, so we made the trial lesson together. It was much quieter in terms of set-up and colours. This is more geared towards the child's pace, which also keeps it fun." Balian was immediately sold: "Although at first I found it exciting. I thought: can I do this? But then I got the hang of it. I thought it was a really fun typing course, especially if I did well and could play games. The meteor storm was the best, because you have to hit the right letter at the right time.

Great structure
His mother is also enthusiastic about the build-up. "For 20 weeks, we did a day task almost after every school day. That was exactly enough for 20 minutes. There was also enough variation between basic exercises, rhythm exercises and games. We did this as a couple, just sitting down and having quality time together. He really enjoyed it and often wanted to do another day's exercises. I really had to put the brakes on him. He has to continue to enjoy it; it doesn't have to become an obligation.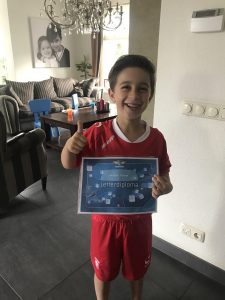 Smaller hands
Our CEO Romer is also very proud: "How great that Balian has achieved this! Normally our students are a bit older, so their hands fit better on the keyboard. Balian solved that by lifting his hand more. He found the outer characters difficult, such as the dot, comma and letter 'q'. But as he gets older, it will become easier. Keep it up and you'll get even faster! To maintain his typing skills, Balian occasionally types some texts for his parents. He is still eager to learn. Maureen: "We are already working on the next course, this time he wants to learn English!

Maureen and Balian did the trial lesson for TypeTopia together and became totally enthusiastic afterwards. Try our free trial lesson with your child and discover what is so great about TypeTopia. Maureen and Balian highly recommend it. Have fun typing and playing!